olson kundig architects in california
Seattle-based studio Olson Kundig Architects takes to Truckee, California to site its Analog House — completed in 2019 in collaboration with the client, local architecture practice Faulkner Architects. The house is designed as a celebration of its 'rugged, high desert site populated by ponderosa pine, manzanita and exposed basalt.'
The complex footprint of the dwelling is informed by the preserved specimen trees, around which it is woven. The architecture surrounds a cluster of trees to create protected internal courtyard, which — together with full-height and clerestory windows — invites the forested site into the living spaces. 'This house has been shaped both functionally and poetically by the mature ponderosa pines trees that occupy the site,' notes design principal Tom Kundig, 'In the same way that you would weave through the trees on a forest walk, this home changes direction to respect and make way for the trees.'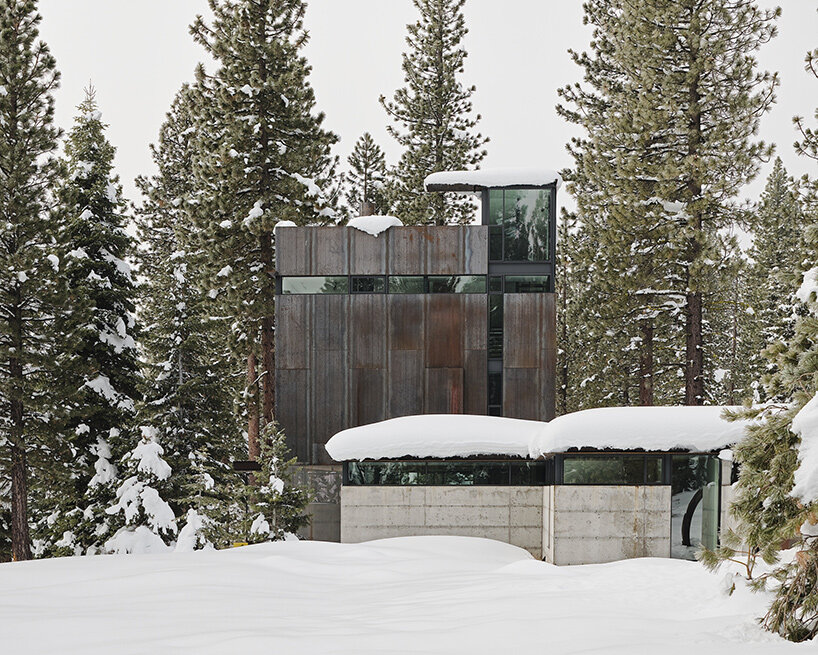 images © Joe Fletcher | @joefletcherphoto
the kinetic details of the analog house
Mimicking the rugged nature of its wooded site, Olson Kundig Architects' Analog House is curated with a material palette of concrete and steel. The team works with Faulker Architects to meticulously detail the interiors, integrating kinetic elements which engage the built and natural space, and lend the house its name. Inside, a stair is shrouded by a wall of textural steel mesh which works with clerestory windows above to flood the interiors with natural sunlight.
Overhead lighting fixtures in the dining room hang from armatures of custom-bent steel which are thoughtfully created to organize and conceal electrical chords. Meanwhile, a custom fireplace bridges the kitchen and wrap-around porch outside. This unique fireplace is designed to convert into an Argentinian grill by way of a mechanical hand-crank. The powder room sink references Japanese bamboo fountains known as sōzu, 'reimagining a standard off-the-shelf shower valve as a unique, gravity-responsive faucet.'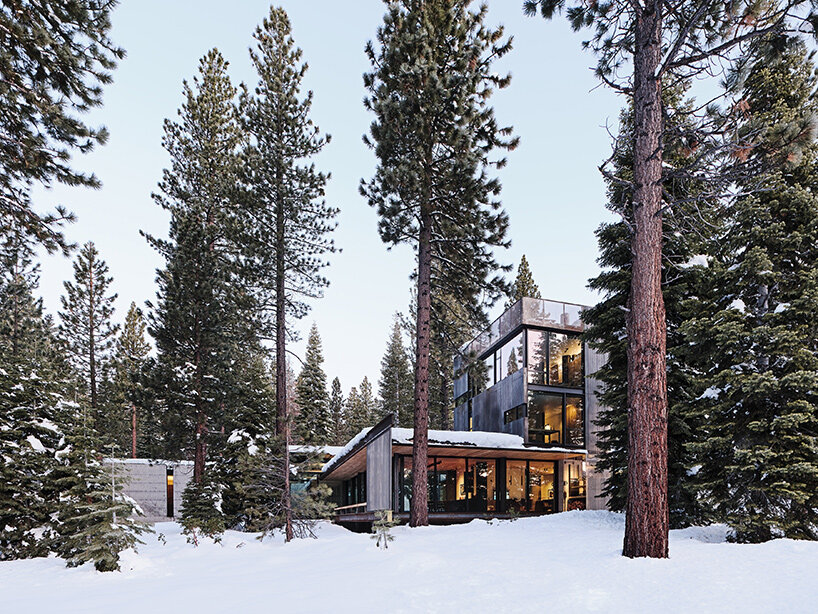 immersed in the forested site
Olson Kundig Architects and Faulkner Architects ensures that occupants are immersed within the wooded surroundings while traveling through the house. A 'forest hall' enclosed by glass walls takes shape as a 'tree-lined procession' linking the kitchen and dining wing to the living room and master suite. This connective hall opens out on both sides toward views to woods.
The team continues: 'Clerestory windows line the living room, suffusing the space with natural light, while a cantilevered steel roof provides cover for an exterior patio. A discreet entry leads into the master suite, which includes an intimate sitting room, open casework closet, sleeping area and bath. The custom bed, designed by the client, faces the trees, while the master bath incorporates a private slot view as well as a protected courtyard.'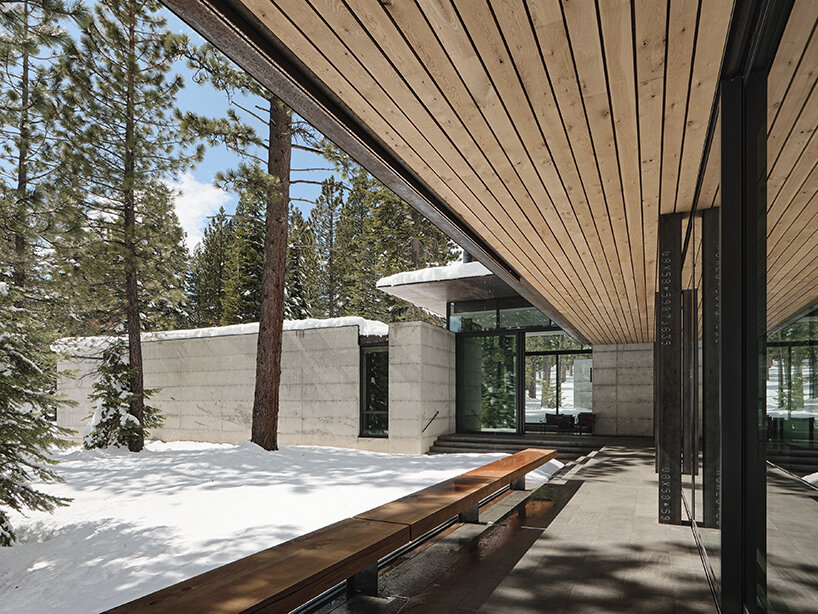 the 'treehouse' tower
Rising overhead the Analog House's main volume is a three-story steel tower dubbed the 'treehouse.' The solid steel cladding on the tower's street-facing side ensures privacy from neighbors. Large windows gradually open outward to the other sides of the tower, which are protected by year-round by the dense trees. Inside the treehouse, bedrooms and attached baths host guests while a roof-top deck offers views toward the nearby Northstar Ski Resort.
Design Principal Tom Kundig continues: 'This was my first time designing a home for a fellow architect, and it was a true pleasure to work with Greg Faulkner. Though I work closely with my clients on every project, Greg and I elevated that collaboration to a new level. It was truly like working alongside a peer, and the design reflects the dialogue that we enjoyed throughout the entire process.'